Shortly after I published my SGI Special Edition Podcast, I was contacted by a former SGI Engineer (who preferred to remain Anonymous) with several stories to tell of what happened to SGI. It's an amazing story full of minor hardware glitches that wound up costing millions, bone-headed oversights during acquisitions, and basic mismanagement of a billion dollar company. The story is far too long and involved for a single post, so I'll be adding it in chapters over the next few days. So come on inside and witness the saga of what really happened to SGI over the years.. The story has never been told, until now. We'll begin at the Top:
Chapter 5: PR Flops
Now, before we begin I believe it's important to state that every company has PR flops.  Products and venues that simply never pan out.  SGI has had it's share, and rather than slam them for it, this is more of a reminiscing of some of SGI's endeavors that simply fizzled out.  These two stand out as a huge outpouring of SGI money and equipment, for little to no return.
1. The SGI Reality Center – Orlando, FL
Back in 1997, SGI opened the "SGI Reality Center" in Orlando, FL. [1]  Using state-of-the-art virtual reality and immersion technologies driven by an Onyx2 with Infinite Reality graphics systems, it was meant to provide interactive simulation support to NASA, the military, and several other nearby agencies.  It contained a 25-by-9 foot spherical screen from SEOS Displays driven by three SEOS PRODAS projectors with edge blending, OCTANE and O2 workstations, and a whole slew of software.  From the press release:
"We have a tremendous heritage in military simulation and with that comes
responsibility.  To Silicon Graphics, this means ensuring that America's
leaders have the world's most advanced technology at their disposal," said Bo
Ewald, executive vice president of computer systems and acting chief operating
officer at Silicon Graphics.  "The Orlando center, located in the heart of
U.S. military simulation and training, will continue that legacy and also help
transfer successful military solutions into the commercial sector."
The Orlando facility was open less than a year before it was closed.  It's not all bad news, tho, as the Reality Center technology was deployed all over the globe.  From later press releases, they claim 640 of them have been deployed.  (In 2002, they say 575. [2]) The one in Orlando, however, never lived up to the initial potential due to government red tape and security concerns.  Even the 640 "Reality Centers" sold probably don't cover the millions in expenses required to build the first one, making the entire project a drain on SGI's bottom line.
2. Disney Innoventions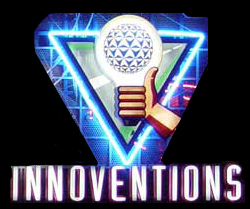 In 1994, Walt Disney World, Florida opened the Innoventions Pavilion in Epcot to showcase new technology.  At first, it just contained game systems from Sega, however it eventually grew to contain several displays from many large companies.  Of course, SGI was there showing off the Virtual Reality systems, similar to what was in the Reality Center. [3]
The Innoventions plaza was shut down in 1997 for remodeling, and (from what I can find) SGI did not return upon its reopening.
3. Time Warner's "Full Service Network"
While not entirely a PR move, SGI became a supplier of hardware and technology for a technology demonstration from Time Warner in the Orlando area called the "Full Service Network" [4].  The network was meant to be a client-server thin-client system, allowing people to "rent" cheap ($500) clients that would connect to large SGI supercomputers and allow users to have a single system for Television, Movies, and Computer access.  In 1994, when this started, everyone thought that with the rising cost of computers, network computing would be the "next big thing". Even Microsoft got into it.
However, Moore's law eventually won out and as computers got bigger and better, they got cheaper and smaller too.  TIme Warner pulled the plug on the project in 1997.  It's believed to have cost Time Warner $100million, and AT&T, SGI, and Scientific Atlanta a good chunk of money in the man-hours spent maintaining it, and in hardware costs.
And that concludes the "What led to the Fall of SGI?" series.  Tomorrow there might be a final Epilogue which will include whatever new information there is about the Auction and Sale, and anything else I can dig up between now and then. If you have anything else to add, feel free to send it in to [email protected] .  If you want credit or prefer to remain anonymous, I'll accept all information.
References
[1] PRNewsWire – Silicon Graphics Opens Orlando Reality Center – Nov 5 1997
[2] Statoil purchases 3 SGI Reality Center Facilities – 12 Sep 2002
[3] Wikipedia – Innoventions (Epcot)
[4] Attack of the $500 Killer Network Computers – Time Warner Cable's Full Service Network
[5] Time Warner to shutter ITV effort – May 1 1997
The views and opinions expressed in this page are strictly those of the author. The contents of this article do not necessarily reflect the views or opinions of VizWorld.com.